We Create Retaining Walls in Peoria IL
Are you looking to augment your yard with retaining walls in Peoria IL? You have come to the right place. We are Calicotte Inc., and we are specialists in creating retaining walls. Our retaining walls serve many purposes, but mainly to hold back soil to prevent erosion and add more level areas in a landscape. Retaining walls can be crafted from many materials, including concrete, wood, and stone. Here at Calicotte, we offer services such as excavation, concrete structures, landscaping and decks. Our goal is to provide you with outdoor living options that last the test of time. Whether you need a retaining wall to line your driveway or you want a decorative option around your backyard patio, we have the solution.
Who We Are
Calicotte Inc. is a family-owned and -operated business located in Central Illinois, established in 1994. We have nearly 30 years of experience in commercial and residential landscaping, concrete work, and construction. Our team is dedicated to providing you with the highest quality services using the highest quality materials available.
We can improve your home or business' curb appeal through these services:
Benefits of Retaining Walls
Concrete retaining walls in Peoria IL offer many advantages, whether serving as an emphasis wall or a complete system of tiered walls designed to turn a sloped exterior space into a stunning architectural design. Here are the main benefits of installing a concrete retaining wall on your business or residential property. For example, retaining walls:
Provide functional support for keeping soil in place and preventing erosion
Prevent sinkholes from occurring and eliminate unsightly dirt piles and hills
Contribute to flood prevention
Reduce maintenance tasks and associated costs
Prevent damage to property and surrounding structures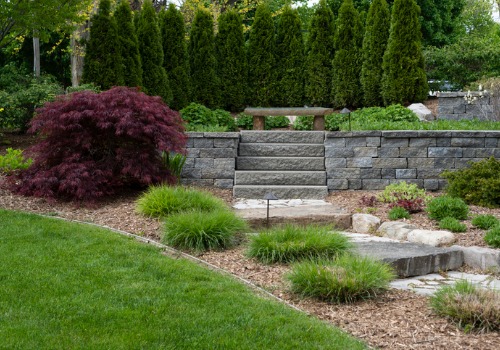 Firstly, a retaining wall is a protective structure, designed to hold back soil from a building or landscape. They prevent downslope movement while providing support for vertical or near-vertical grade changes. Concrete retaining walls serve another purpose: they look beautiful, improve your property value and boost curb appeal. A professional retaining wall installation is imperative if you want the job to look right and last the test of time.
For that, turn to the experts in retaining walls at Calicotte. Our concrete barriers are durable, gorgeous, functional and supportive. Whether you need retaining walls in Peoria IL primarily for aesthetic appeal or landscape retention, these structures can enhance and protect any property.
Contact Calicotte
To learn more about our retaining walls in Peoria IL, contact us at 309-657-5775, email us at calicotte.inc@gmail.com or fill out our online form.