One of the Best Commercial Snow Removal Companies in Bartonville IL
Winter is tough on any business, large or small. Snow removal is a big hassle, yet it has to be dealt with promptly to keep employees and customers safe. We can help you keep up with all the snow that we get here in Bartonville, reducing your stress level by taking care of the time consuming and frustrating snow removal jobs. Why do it yourself? You don't have the time, and you don't want to risk throwing your back out. Instead, hire Calicotte, Inc. for all your snow removal needs, whether for your parking lot, driveways, campuses, and other commercial properties. As a family-owned and operated business located in Central Illinois, we bring nearly 30 years of experience to commercial and residential landscaping, concrete work, and construction. To partner with one of the best commercial snow removal companies in Bartonville IL, come to Calicotte Inc.
Reasons You Need Professional Snow Removal
It's best to hire a professional snow removal company and have them on standby so you can always be sure of a job done well. Check out these four reasons why you need professional snow removal.
Injury Prevention: Shoveling is a tough job that can tax your back and heart. You could slip and fall, break a bone, pull your neck or suffer a heart attack. You'd better leave this up to the professionals, who know how to lift heavy loads and bring the right equipment.
Correct Snow Removal Equipment: Speaking of the right equipment, professionals have special trucks, plows, blowers, snow pushers, shovels, and scoops. Do you want to make that kind of investment on your own?
Timely Completion: When a storm hits, you, your family members or your employees may not be able to remove all the snow promptly. However, leaving uncleared snow for any length of time is unsafe and even illegal. You get peace of mind knowing a professional will arrive on time to get it done.
Stress Reduction: Stressing about storms and how you will handle the aftermath can be overwhelming. When you hire a snow plow service, you can focus on more important things and lower your stress.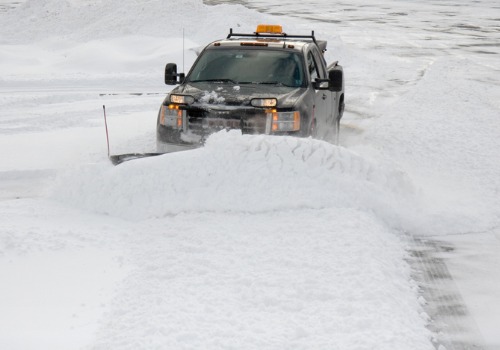 Our Specialties
Calicotte Inc. offers many services that improve your business' curb appeal and value:
Snow removal for driveways, parking lots, business properties and more.
Custom concrete driveways, sidewalks, retaining walls, and patios (stamped and colored options available)
Custom decks: outdoor lighting, decorative railings, functional seating
Contact Calicotte
To learn why we are one of the best snow removal companies in Bartonville IL, contact us at 309-657-5775, email us at calicotte.inc@gmail.com or fill out our online form.